Login Process for the Webex App on your laptop
You should also be prompted for your multifactor authentication (MFA). If you are, complete the request.
UW-Madison Primary Email Address
Webex accounts are created based on an end-user's Primary email address. The account owner can view their Primary email address at the Wisc Account Administration site as described in Office 365 - Change your Primary Address
Calling
Customize your audio and video preferences
When you make or receive a call, the app automatically detects the audio and video devices you have connected to your computer, such as a headset. You can change your settings right before you make a call, like if you want your video on or you just want it to be an audio call only. You can also make some of these your default settings, if you'd like.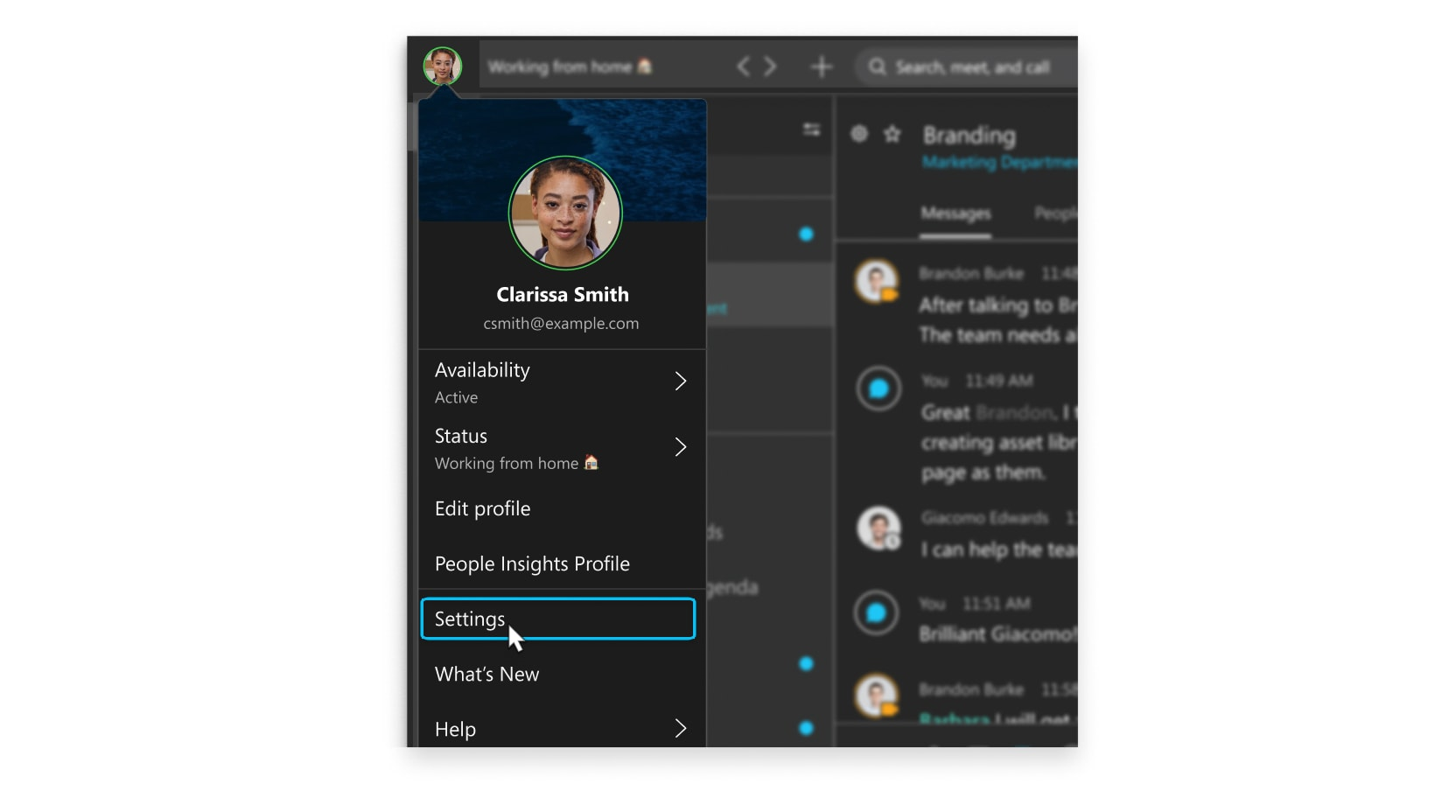 You can customize your video settings:
Choose what camera to use.
See yourself like you're looking in a mirror (Mirror my video).
Blur your background or use a preset or custom virtual background.
You can also personalize your audio settings:
Choose a headset, speaker, or microphone.
Reduce disruptions with background noise removal and speech enhancement.
Call someone on Webex App
You can call anyone with a Webex account without any additional plans or services. If you're connected to each other in the Webex App, you can call them on the Webex App. These are special types of calls that let you add guests to the call, share your whiteboard, and share your screens. You don't use their phone number; you just need to be connected to them in the app. Just look for the Audio or Video icon.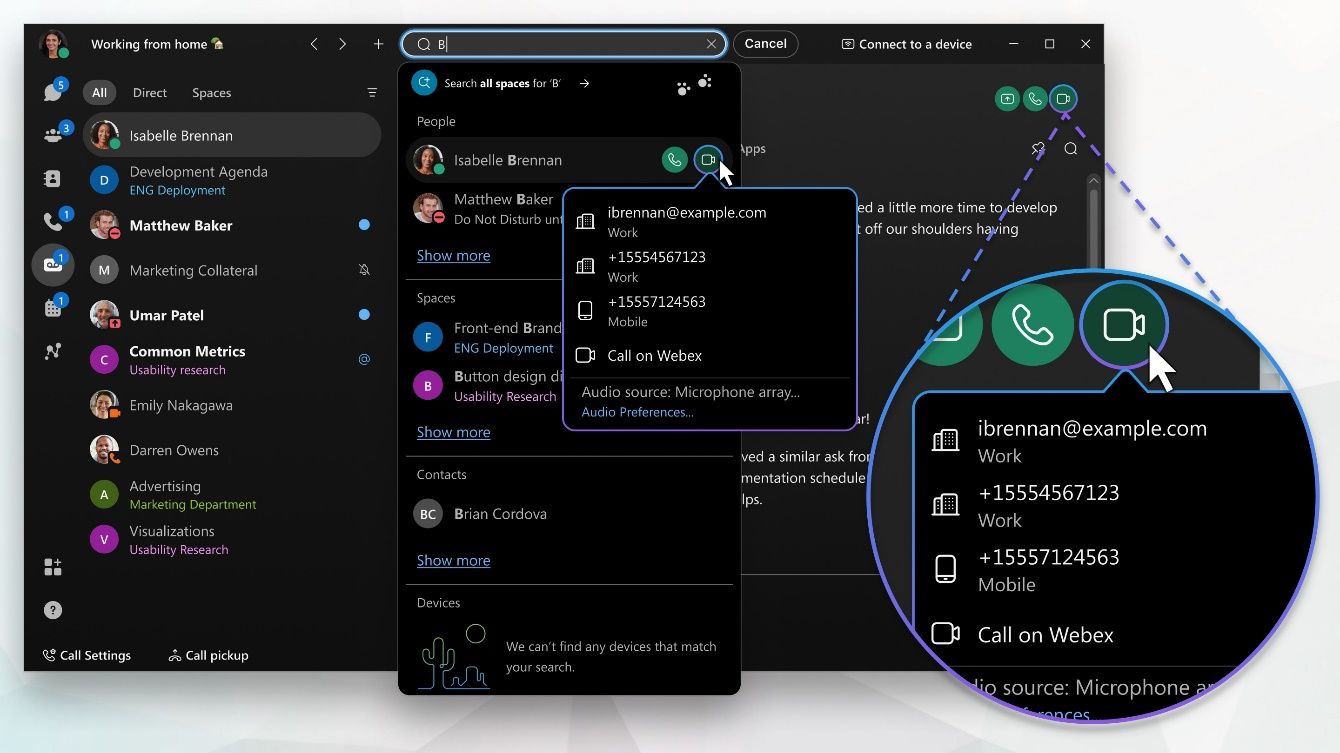 Answer a call
When you get a call, you get a notification that you can use to accept or decline it. If the person calling you has a Webex account, you can also message the person back if you're not able to take the call right away.

Webex App - Make Calls with your Desk Phone
When you're connected to your desk phone from Webex App, you can dial a number or make a call in Webex App and your call goes through your phone. Webex App acts like a remote control for your phone so you don't need to shift your focus away from your computer when you want to make a call.
Choose Preferred Calling Device

Go to and make sure that your desk phones selected. If you see My Computer instead of your desk phone, select it and switch to your desk phone.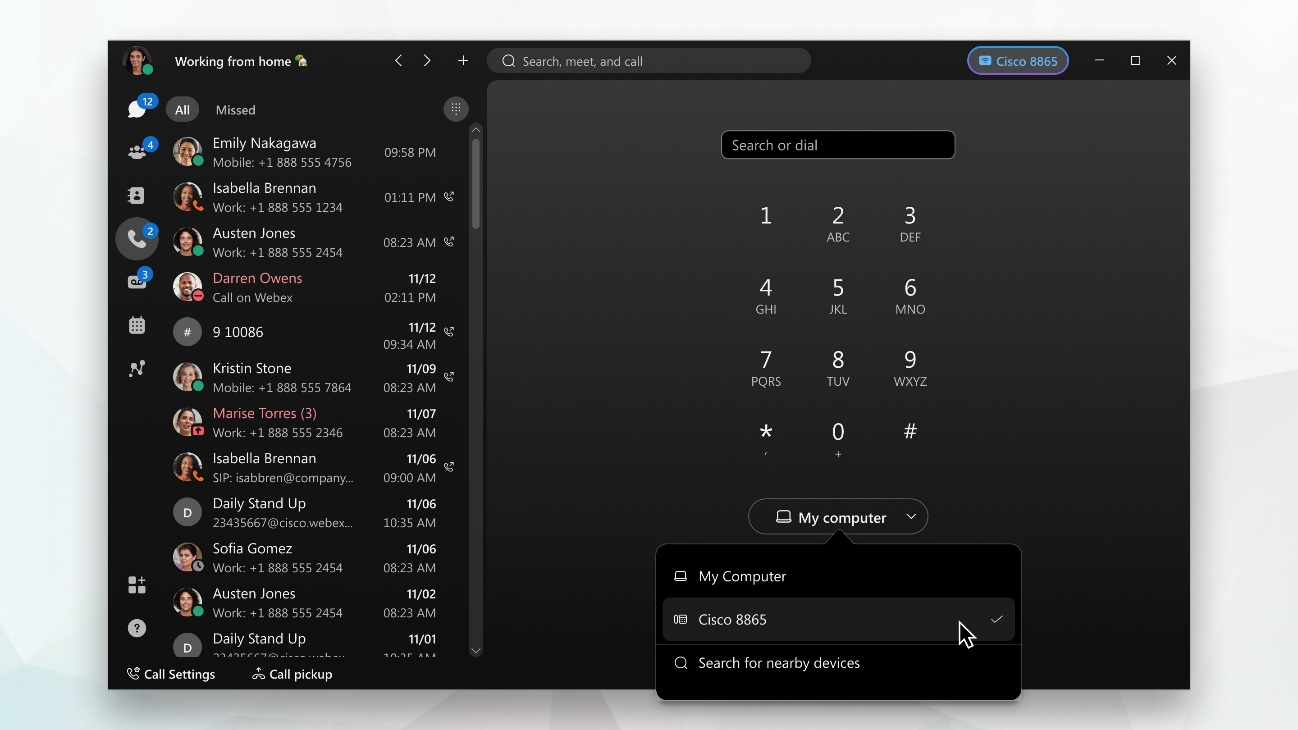 Tip

You can only be signed into the phone service on one calling app at a time. For example, you can't be signed into the phone service on both the Webex App and Jabber or the Webex Calling app at the same time. If you're using Webex App and sign into another calling app, the phone service in Webex App is disconnected.
When you call like this, it's just like making a regular phone call from any other type of phone. If you want to call your favorite restaurant to make your lunch order, call them right from the app, and place your order.
When you're in a phone call, you may have access to certain features. Here are just a few features available: